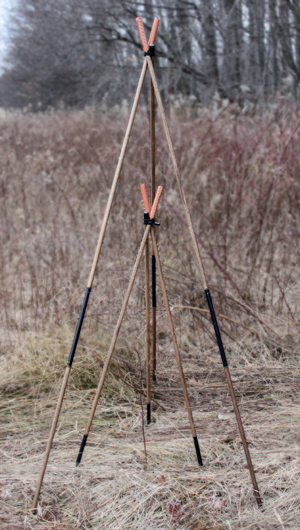 Last year, we went to Africa to hunt plains game in very thick brush.  We brought our 3-section SuperCompact Shooting Sticks (learn more about them here) because we were traveling light with shorter, take-down rifle cases.  Thinking we'd be standing up to shoot, we put all three sections together at the start of the hunt.  However, the brush was so thick the only way to get a clean shot through the heavy brush was to remove the 27" bottom section and shoot from the kneeling or sitting position. From this position, we could shoot upward into the animal's vitals and avoid having the bullet deflected by tough Acacia limbs.  We have seen similar cover in Texas, Florida and other parts of the USA depending on the season and game being pursued.
Based on this experience, our new Brush Sticks were born.
What is different about these sticks?
To start, the top section is 46", a full 10" longer than our other shooting stick models to allow greater ease of use from a kneeling or sitting position.    To make sure these sticks are as rigid as all of our other models despite the longer top section, we made them a "fat" 5/8" diameter.  In addition to hunting in thick cover, we think these will be a favorite among turkey hunters and those who take long shots in open country and need the added stability of shooting from the sitting position. When both sections are put together, they are perfect for taking shots from the standing position.   Traveling with them is easy as the top section is always 46" which means they will fit in just about any full-length airline gun case as most of these have an inside dimension of 48".  If you order the XL size, we add the additional length to the bottom section. See sizing recommendations at the bottom of this page.

(Left) Cord lock at bottom for walking
(Right) Cord lock at top so sticks can spread out
The new Brush Sticks are also the perfect height to use as a staff when navigating uneven ground.  If you have been watching the"Boddington Experience" this season you have seen Craig do this  with the top two sections of our SuperCompact shooting sticks (which are the same length) during many of the mountain hunting episodes. To use your new Brush Sticks as a staff, simply slide the doubled up, heavy-duty cord-lock that is on  the top section down so it is just above the brown bumpers that are just above the top connector to keep the three legs together.  When you want to spread them out to take a shot, simply slide the cord lock up are far as it will go and spread the sticks as needed.  I know this sounds almost too simple but that is all you have to do to unlock the versatility to this new model!

Other than engraving the lucky owner's name on the connector, there are no options on this model as they come fully loaded with all of our most popular upgrades…rigid hickory shafts, black anodized connectors, hand-sewn circular tops and tough new brown synthetic bumpers for noise suppression and to keep the heavy-duty cord-lock from sliding down too far.
Good hunting,
Jim & Elisabeth